Are you preparing to start moving to University?
The hard work of the past few years has finally paid off and you are off to university – well done!
For many young people, moving to university halls is their first experience of being totally independent.
No one to tell you what to do, no one to moan about the mess in your room, or to tell you what time to eat, what to eat or when to be home!
Yes, going to university is a fantastic opportunity to make new friends, broaden your horizons, and revel in your new-found self-sufficiency.
However, before you arrive, there is quite a bit of planning involved to ensure you have all the necessary supplies to make this wonderful period of your life a little easier.
Here is some practical advice and guidance which will help you through this sometimes-stressful transition period.
Definitely having some familiar items around you will make your uni room feel more homely.
Things to consider before Packing
It is always a good idea to check what your university provides beforehand. No point in doubling up and wasting money when you don't need to.
It is also important to bear in mind that you are going to be moving into a small room with limited cupboard space.
Plus, as will the majority of universities you will be expected to move out again before the summer holidays so packing wisely will help.
Don't opt to buy expensive items. Plenty of stuff probably won't survive your first year, so there's no point in spending tons of cash on it!
As a guide to volume, aim to take with you a suitcase of clothing, 2 or 3 boxes of other things (which can also double up as storage, and a bin liner for your bedding.
You can always add a bit extra when you get there if you feel you need it.
All this can be easily transported by car.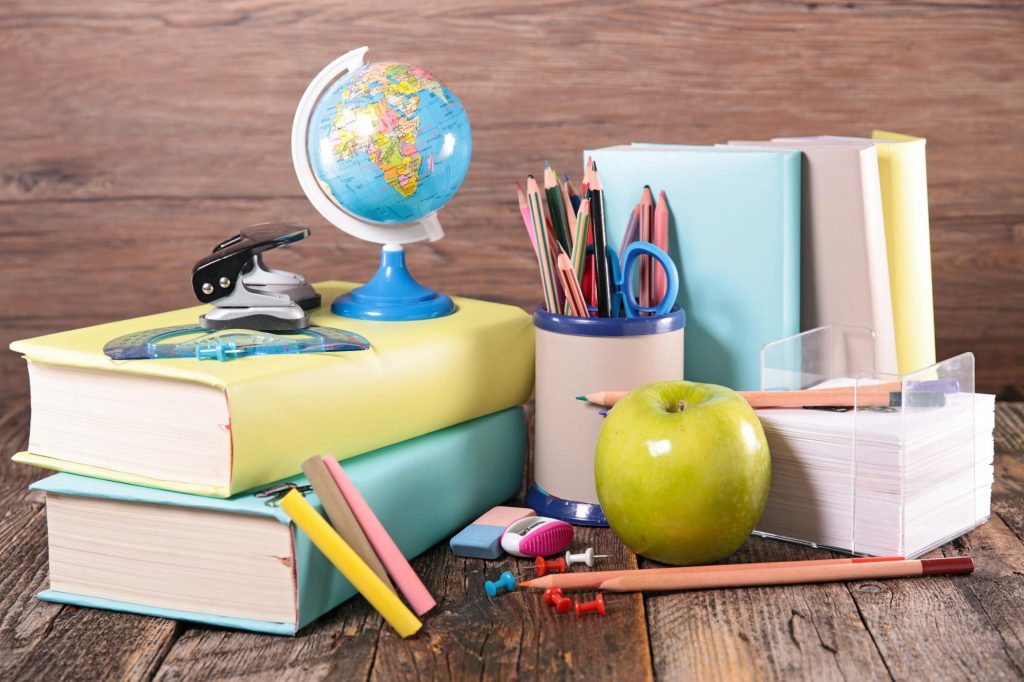 Academic Materials
Depending on your chosen course, you will be expected to bring with you the academic material needed to support your study.
The basics include a laptop, printer, books, pens, pencils, A4 pad and binders, stapler, Sellotape etc. etc.
There may be some added specialist equipment needed, your course information should guide you as to what is required.
Many universities will have common rooms where you can use their computers and printers for your work.
Using common rooms or areas not only saves you money by not having to buy costly equipment, but it is also another way to make new friends. Plenty of other students will be there too.
If you do decide to bring your own PC etc, you should consider taking out insurance against damage etc. Some universities have this kind of cover, but it is best to check.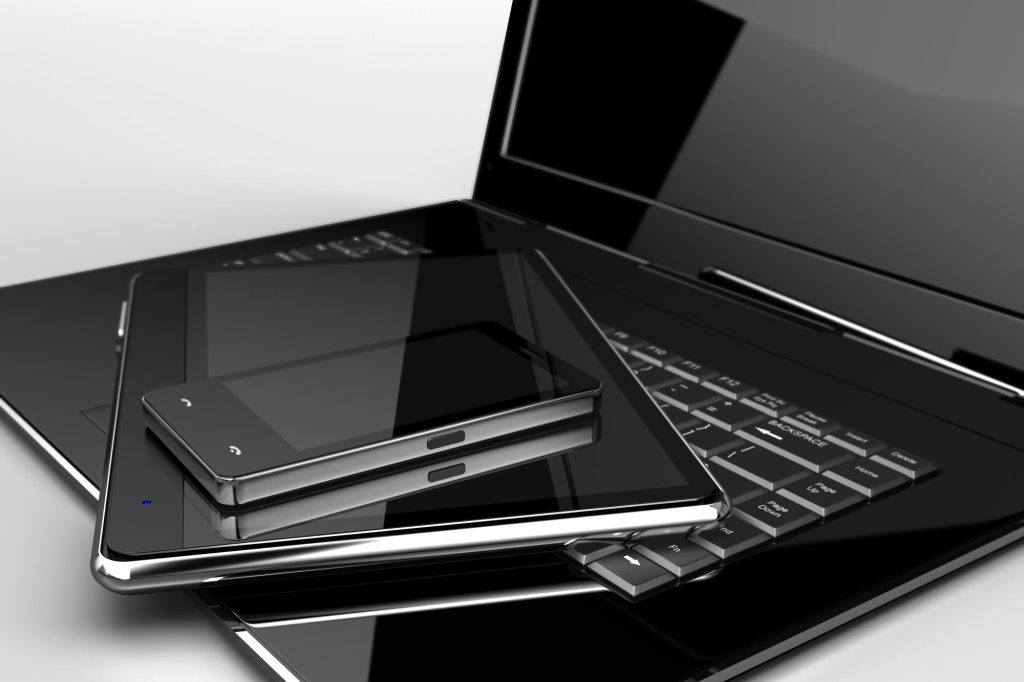 Electronics
There are a number of electronics most of us can't do without and our mobile phones are one of them.
Packing your charger is a definite must. You may not like it, but your parents will want to keep in touch regularly, at least at first.
Earphones and or headphones are another must. You can listen to lectures, music, or podcasts without disturbing anyone else.
The same goes for your laptop, don't forget to pack its charger. Plus, having a couple of memory sticks will be helpful too.
We have mentioned taking a printer, but this is not always necessary.
If you do need to print anything, you can use the public printers on campus. Just bear in mind there may be a minimal charge for this.
An extension lead is also handy as the sockets on your room may not be close enough to use with the power lead alone.
You may not have room, and in some ways, it is a drawback, but taking a play station or something similar may help if you find you are a little lonely at first.
Bedroom Essentials
You will need a double duvet, cover and 2 pillowcases. You can wrap yourself into a double duvet like a sleeping bag.
TIP: You can pick up a double duvet from Asda for as little as £10.
Take a mattress protector and a fitted sheet.
You won't have to change the bottom sheet quite so often because you won't be touching it if you are cuddled up in your double duvet.
Plus, having a good-sized duvet means that you will need to bring any blankets because folded over, a double duvet will be warm enough on its own.
You will need to dry your clothing in your own room so, a foldable clothes rack is going to be an essential item.
Other items to consider include coat hangers, a desk lamp, and most importantly ear plugs for when you need a decent night's sleep!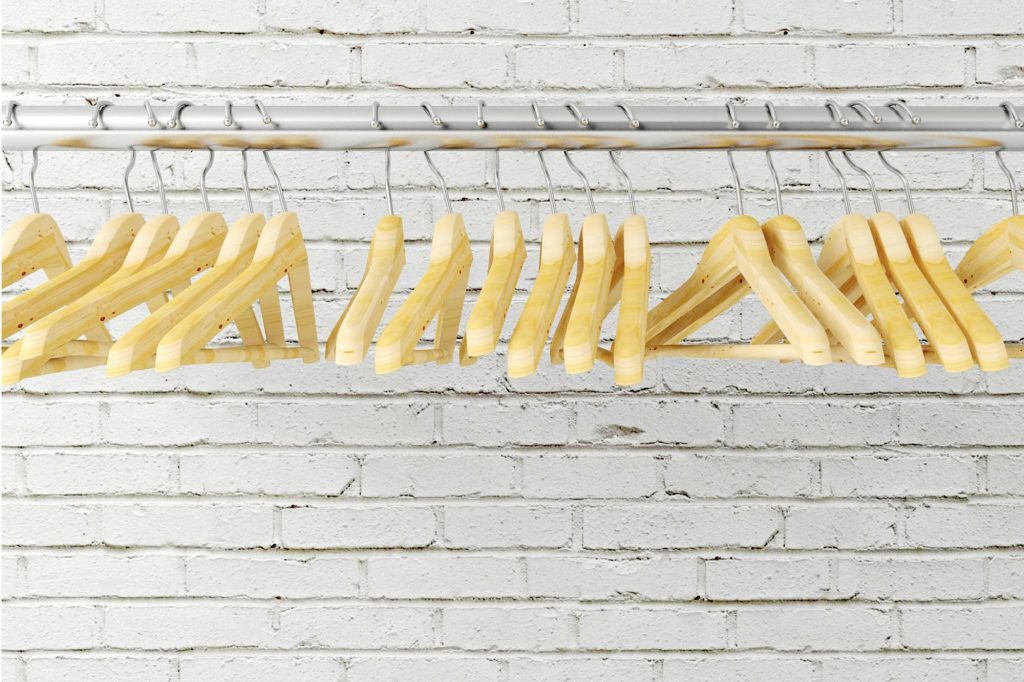 Clothing
Everyone is different.
You may be happy with two of everything.
Others may want to take more, but the best advice is to keep it to a minimum.
You will be away for several seasons when moving to university, so pack a mix of warm and cold weather things.
If you like to keep fit, you will need your sports kit.
A warm winter coat is important too because to save your cash, you will be walking a lot, one of the negatives, of no parental lifts available.
If you visit home relatively regularly, you can always swap your wardrobe according to the season.
Bathroom Supplies
You may be lucky and have a bathroom all to yourself, or you may be sharing this space. Depending on your own situation your checklist will differ.
Universities rarely supply towels so; you will need two large ones and a hand-size towel.
Buy a sizeable toilet bag so that you can keep your personal toiletry items together. Then everything will be to hand when you shower.
Toothbrush, toothpaste, deodorant, soap, shower gel, shampoo and conditioner, razors makeup, hairdryer brushes, and perfume/aftershave all need to be included in your personal washbag.
Some items can be bought on a "share basis".
Once you get there you can negotiate and club together with your flatmates to buy things such as a bathmat, bin, loo paper, toilet brush and toilet cleaners which everyone can use.
It is a good idea to have a small first aid kit.
Pack paracetamol, antiseptic wipes, plasters, small scissors, and very importantly, any prescribed medication.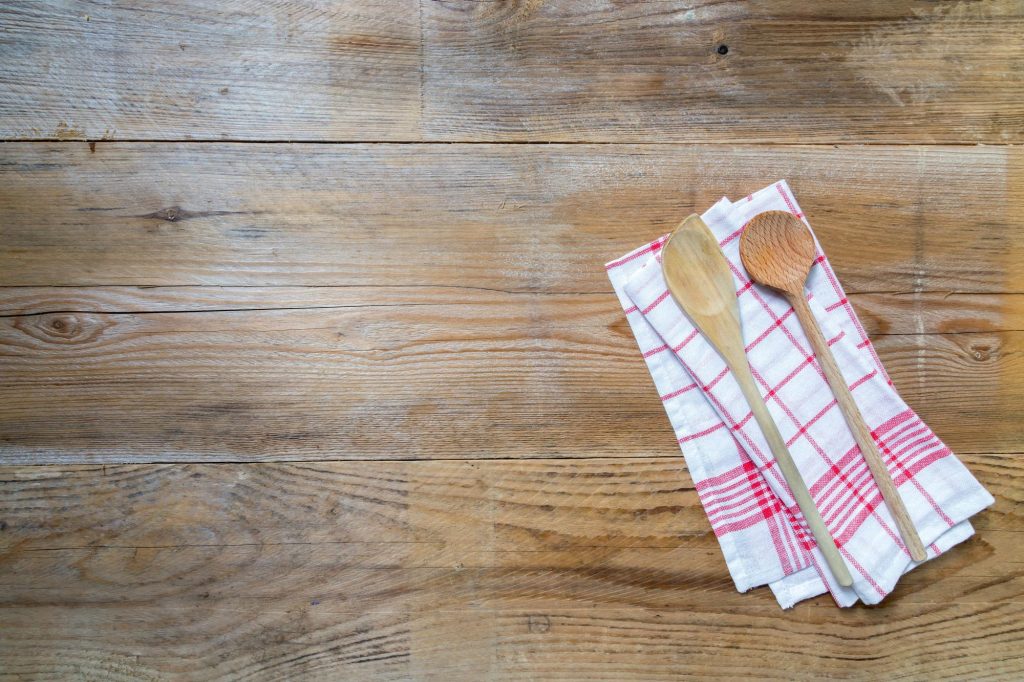 Kitchen Equipment
This is a difficult area because equipment varies from uni to uni.
You may find when moving to university that there is already some basic kitchenware available, such as a kettle and toaster but many don't.
As a rough guide, you will need one of pretty much everything.
Here again, once you have arrived, you can check out what is already available and add to it if necessary.
You'll 100% want to take things like your own plates, cutlery, mugs, and cereal bowls.
Plus, you need several storage containers, saucepans, a frying pan, and a baking tray.
Items such as foil, bin bags, cling film, and washing-up liquid can be bought after you arrive.
These are other things that can be bought on a shared expense basis moving forward.
Oh and don't forget the bottle opener…..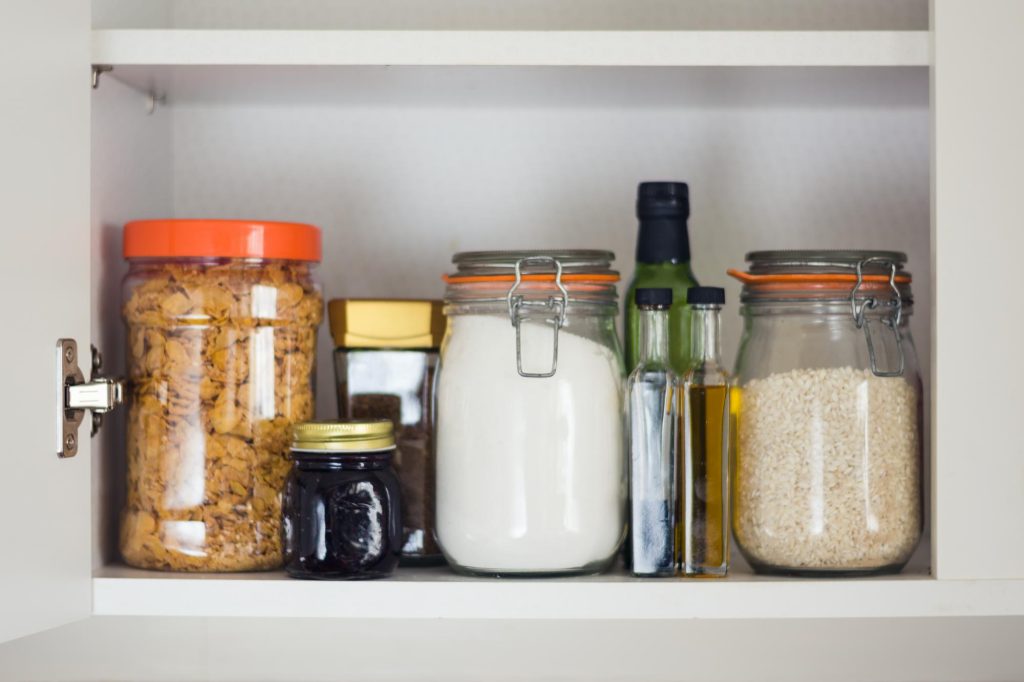 Cupboard Staples
When moving to university halls, you will generally be assigned your own food cupboard storage area in the kitchen. 
It will be much cheaper to eat at home so taking some basic cupboard staples will help you rustle up something tasty in no time.
No need to pack and carry all these on move day, they can be bought later.
Make sure you have these things in your kitchen cupboard:
Salt and pepper
Cooking oil
Pasta and rice
Several tins of tomatoes
Several jars of bolognaise sauce
Flour
Sugar
Potatoes
Bake beans
Tuna
Stock cubes
Tomato sauce
Mayonnaise
Tea and coffee
Long life milk
It might seem a bit expensive to stock up at first, but these items will last a long time and will be worth the initial investment.
Of course, over the year you will add to this basic list, but these things will at least get you started.
Plus, there are hundreds of low-cost recipes you can try.
Studenteats is a great website, full of tasty thrifty meals you can prepare quickly.
Personal Documentation
There are quite a number of documents you need to keep safe and in an easy-to-find place when moving to university.
Having all these very important documents handy and in one place is vital.
It is well worth buying a sturdy A4 folder box folder that will keep your paperwork together nicely to avoid any damage or worse, losing it.
You can store your passport, driving licence, any university documents needed for registration purposes, and paperwork pertaining to your accommodation and in some cases your birth certificate.
Don't forget to apply for your NUS card (National Union of Students). Find out how to here.
The card entitles you to student discounts in most major high street stores and lots of other places. It costs just £12 for a 12-months, and it's estimated you'll save an average of £500 a year.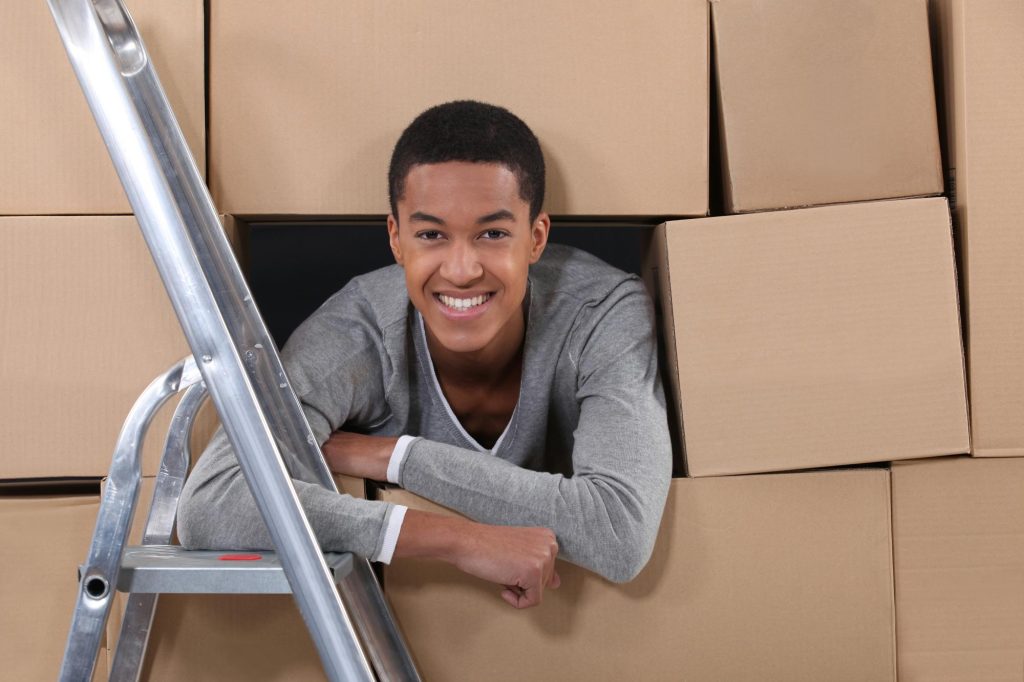 Transporting Your Belongings
There are several ways to transport your belongings when moving to university.
One way is to load up the car and drive to the university.
This would be the cheapest method; however, it is not always practical or possible.
What if you don't have access to a car, or you live in the south of the UK and your chosen university is in Scotland? Don't panic, there are other options.
Most removal companies can handle transportation for you.
They will pick up your effects and deliver them direct to the university. You can start by calling a general removal company in your area and get a quote.
Unpacked is a great service. They collect and deliver student consignments all over the UK, delivered at a date and time you specify.
To find out more about this service visit their website here.
Moving out for the Summer
Each university has a different policy with regard to vacating halls for the summer.
Sometimes you are able to stay in the same room for the whole of your four or five-year course.
Though this is not always the case, as many halls are only for first-year students.
After this period, you are expected to seek private accommodation, such as a house share or flat.
You will be expected to clear your room and leave it clean and tidy, just as it was when you first moved in.
Plenty of students move back home for the summer. Some stay and work in the local area, but there is still the question of what to do with your belongings.
A popular choice is to use a storage facility. There are literally hundreds dotted around the UK so there is sure to be one close to you.
It is a cost-effective method for storing short term. You can even share with other students in the same position, thereby saving on cost.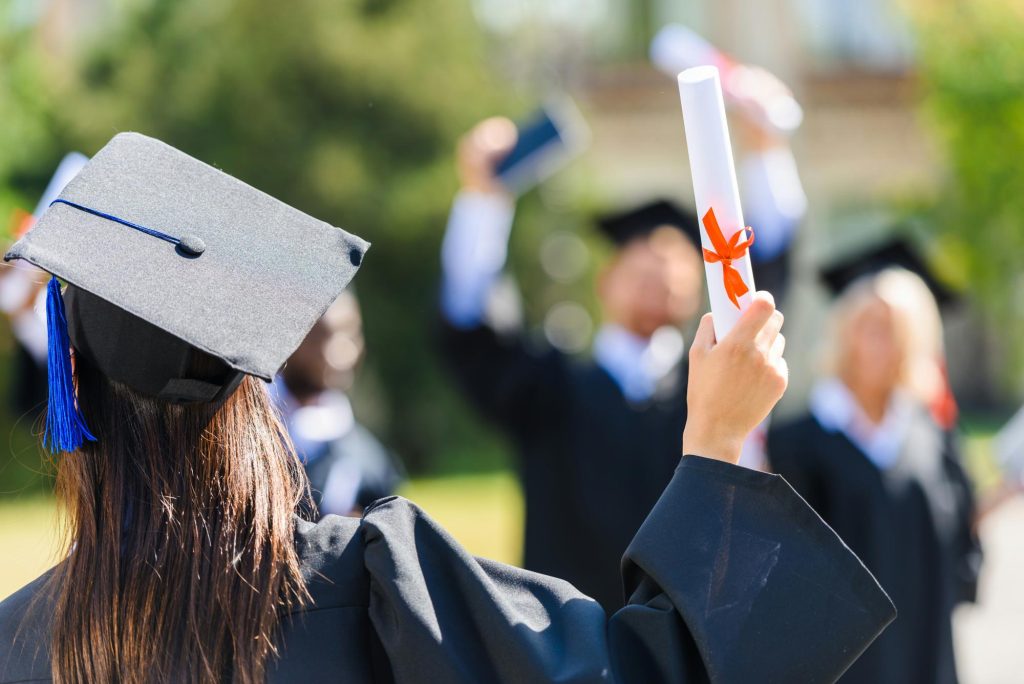 Embrace the Experience
Moving to University can be a hectic time.
The advice here is certainly not exhaustive but, it is an aid to help you try and remember the most important things you will need to start off with.
There are bound to be things you forget or had not thought of. But there is nothing to worry about.
In the overall scheme of things, forgetting a few bits and pieces is no issue.
When you first arrive, everyone is in the same boat as you and will be happy to lend things until you can get your own.
There is no doubt that you will have times when you miss family and friends, but going to university is a fantastic experience, you should embrace it all because it will go by very quickly.
Finding your feet and becoming totally independent is a journey that will set you up for the rest of your life, so no matter what, go ahead and enjoy it!