It is common knowledge that Edinburgh, the capital city of Scotland has an exceptionally long and tumultuous history.
However, few know that according to unearthed human remains, it has in fact been inhabited as far back as 8,500 BC!
This is a city for all, whether you live here already, are thinking of moving or just visiting for a few days you will absolutely be bowled over by this incredible city and its historical importance.
One of the most surprising things about Edinburgh is that it has a mountain of quirky trivia and unusual facts waiting to be uncovered.
In our article, we want to share some of these fact and figures, many of which you may well not be aware of.
Edinburgh's Nicknames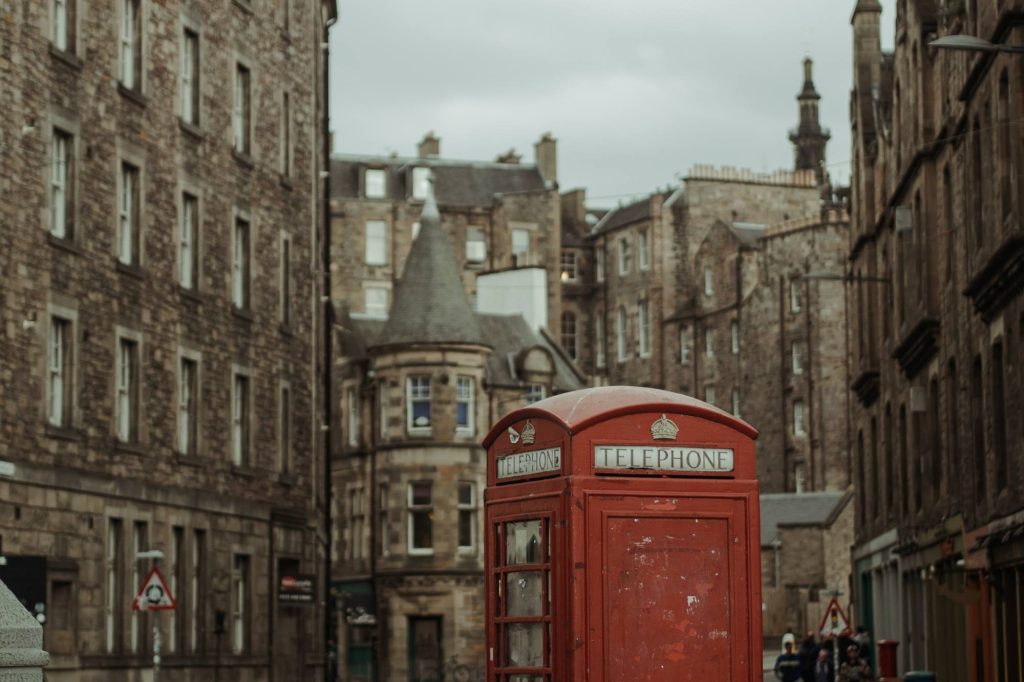 As Edinburgh has been around for so long it is no surprise that it has managed to be known by several different names over the years.
Each one represents different aspects of its history and culture.
Here are some of them:
"Auld Reekie," is one of Edinburgh's most well-known and traditional nicknames. A Scots phrase meaning "Old Smoky. In industrialised Edinburgh, the city was characterised by its smoky landscape, and fallout from the many factory chimneys located across the city.
"Athens of the North," is a nod to the city's historical and cultural significance likening it to the ancient Greek city of Athens and its intellectual and cultural achievements.
"Embra" is a Scots pronunciation of "Edinburgh." An endearing form of the name that is mostly used by locals and pronounced in their Scottish dialect.
"The Festival City" due to the abundance of varied and interesting events held annually across the city. The Edinburgh Festival Fringe, the Edinburgh International Festival, and the Edinburgh International Book Festival combined add to the city's cultural vibrancy. Millions of visitors gather to take part in or watch these events.
These monikers are a testament to Edinburgh's rich past, present-day cultural relevance, and beloved status among the local people who call it home.
Historic Edinburgh
Edinburgh consists of two halves, the Old and the New City. While the Old part was established in 7AD, the New part was formed at the beginning of the 1700's.
Few could argue that Edinburgh has a reputation as being one of the most historical cities in the United Kingdom.
As such, it is steeped in history, and it is filled with a plethora of fascinating and quirky facts from its past.
Some of the oldest British defence buildings known as hillforts surround Edinburgh.
The "Votadini" ruled the region during the Iron Age, a fearsome fighting tribe one of the many tribal groups that inhabited the British Isles before and during the Roman period. Their legacy survives mainly through archaeological discoveries and ancient place names in the region.
Scotland's first King was Kenneth MacAlpin known as King of the Picts. His short rule lasted 16 years between 842 and 858 AD.
Unusually it is a fact that Scotland's national animal is the Unicorn a statue of which sits on Parliament Square in Edinburgh. Serving as a reminder of the country's history, mythology, and position within the UK.
The "Stone of Destiny" was stolen and taken to Westminster Abbey in London during Edward I's invasion of Scotland in 1296. It has played a significant part in coronation ceremonies for centuries.
During the Medieval era, life was hard and dangerous. It was common for the city's inhabitants to spend their whole lives behind the city walls, never having stepped foot outside of it.
As Edinburgh was an incredibly small city in Medieval times, just 0.2 of a mile square, the city was cramped forcing its inhabitants to build upwards. Hence it is said that Edinburgh was the birthplace of modern-day skyscrapers.
Following several hugely destructive fires, local firefighters formed a municipal fire brigade in 1824. The first organised fire brigade service in the UK.
A substantial number of listed buildings dot Edinburgh. Boasting well over 4500, it is the highest number of any city in the UK. Royal Mile, Edinburgh Castle, and the Palace of Holyroodhouse are among the many listed buildings in the city.
Beneath the city's South Bridge lies a labyrinth of 29 vaults and hidden passages, many of which have now become visitor attractions.
Haunted Edinburgh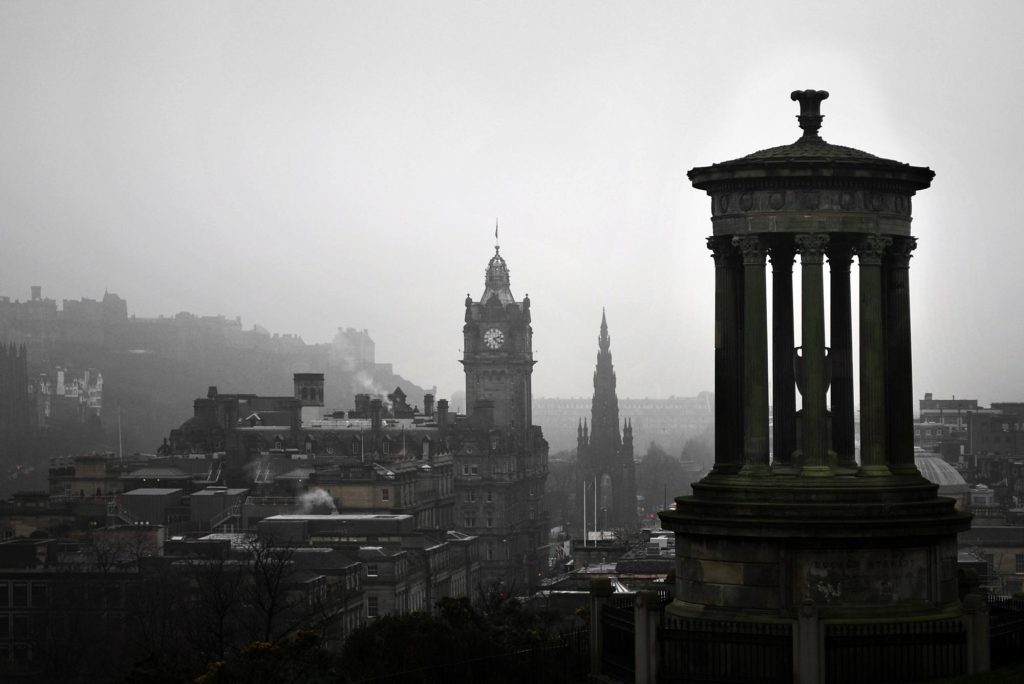 No city as old as Edinburgh is without its fair share of ghostly happenings, in fact, it is known as the most haunted place on the planet.
Here are a few eerie stories relating to Edinburgh.
A high-ranking member of the army, Thomas Weir lived a respectable normal life on the surface.
However, all was not as it seemed. The self-confessed follower of Satan was sentenced to death for his crimes of bestiality, incest, and witchcraft. His family home has experienced plenty of paranormal activity since his death.
Having been the site of thousands of deaths over the years, Edinburgh Castle's resident spirits often make their presence known to the many visitors and the castle's employees. Many accounts tell of a phantom piper, a headless drummer, ghostly footsteps, and voices.
The graveyard of Greyfriars Kirkyard in the Old Town is also the subject of paranormal activity. Though thousands have been buried here, one of the most famous is a barrister turned murderer George McKenzie. His restless spirit has been attributed to poltergeist activity.
Though now a tourist attraction, the vaults and underground passageways were once dangerous places. Once home to taverns, shops, and places of ill repute, now they are home only to ghosts who push, pull and prod intruders.
Dating back to 1516 the old White Hart Inn located at 32 Grassmarket, is Edinburgh's most haunted pub. There are stories of shadowy forms, unexplained bangs and slamming doors scaring even the bravest visitor.
Well-Known People Born in Edinburgh
A host of well-known people hail from Edinburgh. Singers, actors, inventors, comedians, and authors here are just a few.
Born Thomas Sean Connery on the 25th of August 1930, he went on to become the very first James Bond. He was born in Fountainbridge, Edinburgh.
One of the original "boy bands" the Bay City Rollers, broke many hearts during the 1970s. They all came from Edinburgh.
Comedian and impressionist Rory Bremner noted for his work in political satire was born in the city in 1961.
Broadcaster and journalist Nicky Campbell was born in the suburb of Portobello, east of the city. His Radio career also includes notable work for BBC Radio 2.
Known as one half of "The Two Ronnies," Ronnie Corbett was born in the city in 1930. He was educated at James Gillespie's Boys School and the Royal High School in the city.
Born in Edinburgh in 1860, J.M Barrie a Scottish novelist and playwright is best remembered as the creator of the children's book Peter Pan.
Robert Louis Stevenson (born Robert Lewis Balfour Stevenson) was a Scottish novelist, born in 1850. He best known for works such as Treasure Island, Strange Case of Dr Jekyll, and Mr Hyde, Kidnapped and A Child's Garden of Verses.
Another famous writer Arthur Conan Doyle was also born in the city on 22 May 1859 at 11 Picardy Place. He is best known for his creation of Sherlock Holmes.
John Napier nicknamed "Marvellous Merchiston," was a Scottish landowner known as a mathematician, physicist, and astronomer. Notable for several reasons – as the discoverer of logarithms, he also invented the so-called "Napier's bones" and made common the use of the decimal point in arithmetic and mathematics. He lived in Merchiston Castle in the city.
Alexander Graham Bell inventor, scientist and engineer was born in Edinburgh in 1857. His invention of the telephone was a groundbreaking moment in the history of telecommunications.
Edinburgh's More Random Facts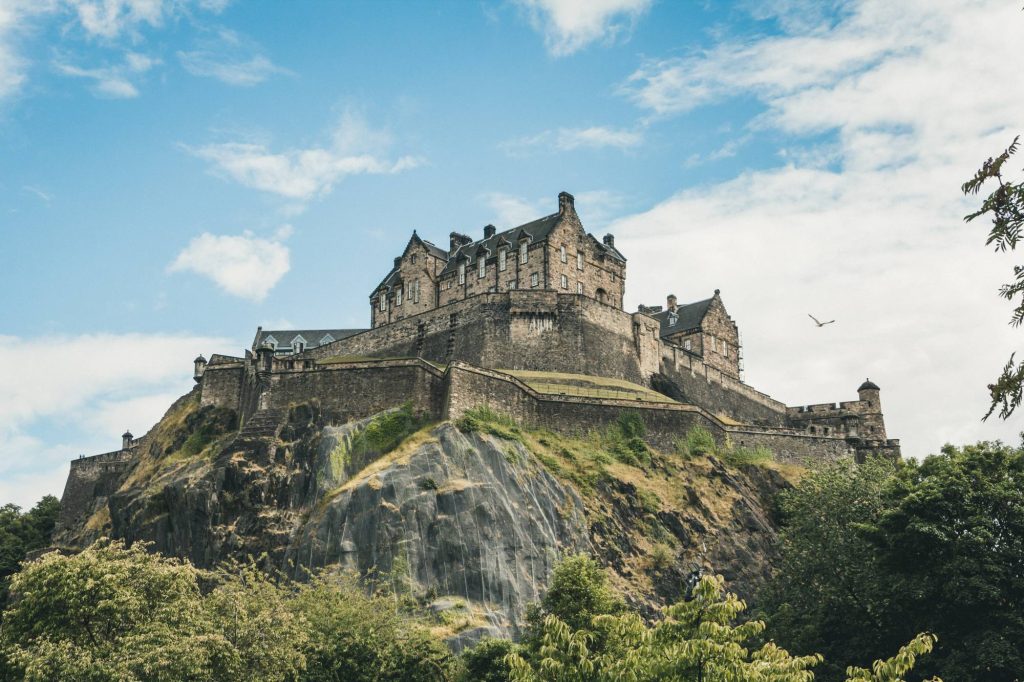 It is extremely hard to pigeonhole some of the weird and random facts about Edinburgh. Here is a selection of some of the more unique and unusual.
The Royal Mile is located in the Old Town however, it is nowhere near a mile long at just 1,609 metres. The name "Royal Mile" is a colloquial term for a succession of streets that run through the heart of the historic Old Town of Edinburgh.
The whole New Town area of the city was designed based on the Union Jack flag.
Edinburgh is the greenest city in the UK, with 112 parks and 750,000 trees more than our Capital London.
Founded in 1582, the University of Edinburgh is the sixth oldest university in the world.
Although now it is published exclusively online, the first edition of the Encyclopaedia Britannica was written by Colin Macfarquhar and Andrew Bell and published in Edinburgh in 1768.
J. K. Rowling wrote the first Harry Potter book in an Edinburgh coffee shop called Nicholson's.
In fact, J.K. Rowling wrote the Harry Potter book series in different locations across the city.
Some of the Harry Potter movies were filmed at different locations around the city.
Edinburgh Castle is perched on Castle Rock, which is actually the remains of a volcano that became dormant around 350 million years ago.
Shipped to Scotland from Sri Lanka, the Castle was famously once home to an Elephant. His name was Ninian, he later became the regimental mascot.
The Fringe Festival is the world's largest arts festival. It is held annually in August and is the world's biggest celebration of arts and culture. Ticket sales are only surpassed by the Olympics and FIFA World Cup matches.
Edinburgh Zoo has been a pioneer and leader in penguin conservation and breeding efforts. The Zoo is the first in the world to house and breed penguins.
Chloroform was first used as an anaesthetic in surgery by Sir James Young Simpson, a Scottish obstetrician, in 1847. Born in Scotland he studied at the University of Edinburgh. Simpson's pioneering work with chloroform revolutionized the field of medicine and surgery by introducing a more effective and safer method of anaesthesia.
Would you Like to Move to Edinburgh?
Hopefully, you have enjoyed the facts and interesting information about Edinburgh in our article.
The city's unique blend of history, culture, and opportunities indeed makes it an attractive destination for many.
Ultimately, choosing a new location to move to is a very personal thing and we all have our own particular requirements.
One common denominator is going to be the logistics required to get your personal effects from A to B.