When people vacate a property, it is always a rush at the last minute. Very few manage to clean thoroughly.
When the new owners or tenants arrive, they can be faced with a half-job-done scenario.
There is nothing worse than having to clean other people's mess, however, it must be done.
When a job needs doing, it is worth doing properly!
A good deep clean requires a systematic approach and the right tools and products.
When you have bought a new home, you are proud of your achievement, you want to make sure that it is as clean as possible before you can start to settle in and begin the big unpack in earnest.
There are some must-have cleaning products and tools when moving into a new home that will make the job that much easier.
Not only will these products and tools help you to do a deep first clean, but you can also use them for maintaining a clean home moving forward.
Getting Started
Before beginning the cleaning starts, make sure you have absolutely everything you need together in one place.
It becomes a nuisance if you are continually having to stop to go off and find things.
Even worse if you have down tools and take a quick trip to the shops.
You are going to be tackling a range of different areas, some will be dirtier than others.
The kitchen and bathrooms tend to be the worst culprits, so it is worth starting with these first.
A trusty list is a good way to plan the attack.
You may want to do the cleaning in stages over a few days.
This way you can really get stuck into each one and o a thorough job.
Trying to do it all in one day is exhausting and you will end up rushing to get it done.
Do an Inspection
Conduct a room-by-room inspection of the whole house.
Without having a good look around, how can you even know what products you need to do the job?
This is where pen and paper come in very handy.
As you move from room to room, take note of where you see any areas that will need your attention.
Note any particularly nasty places and the type of mess such as carpet stains, heavy limescale deposits or filthy windows.
Once the inspection is complete you are ready to gather all you need.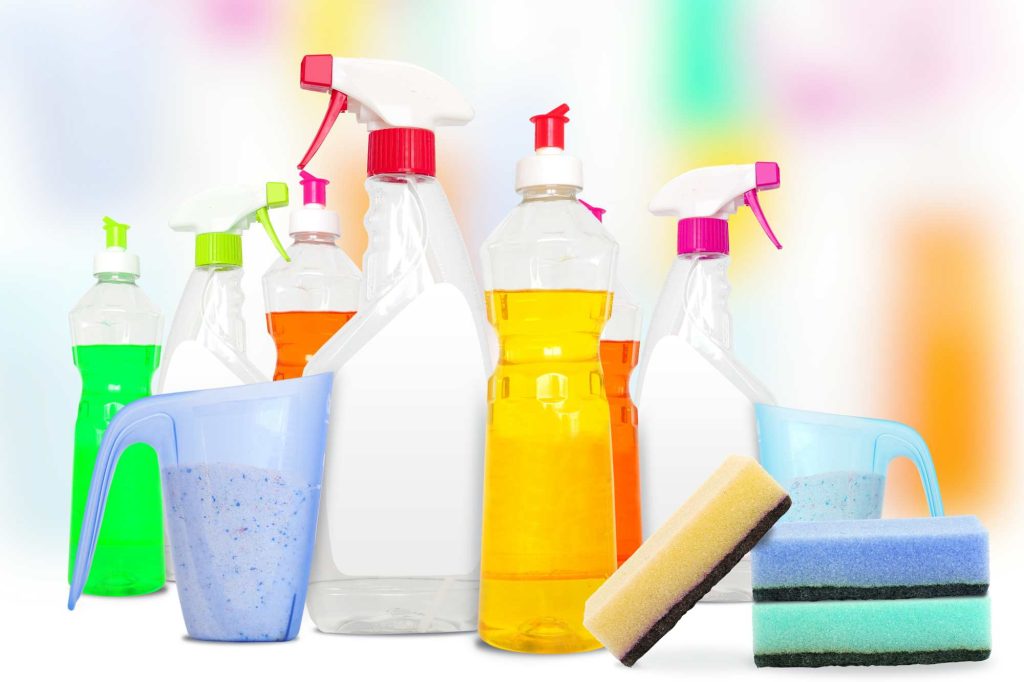 11 Essential Tools to Add to Your Must Have Cleaning Kit
Rubber Gloves. Some of the jobs are going to be dirtier than others. Having a good strong pair of gloves will protect your hands from harsh chemicals. Gloves are also a much more sanitary way to tackle cleaning toilets and floors.
A Hoover. This tool is invaluable. A good vacuum will really make a difference. One with a long hose and plenty of attachments can reach places you can't. High up along coving and ceilings to down low along the skirting boards and carpets.
Bucket and Floor Mop. Most homes have at least one room where they have hard floors.
Ceramic tiles, real wood flooring or laminate, a bucket of disinfectant water works on all. (NOTE: less is best when it comes to real wood or laminated floor coverings. You don't want to saturate these surfaces in water, just wipe them)
Dustpan, Brush, and Broom. Sometimes when a room is particularly dusty or covered in dirt or larger debris, a thorough sweep with a broom is best first. After you can collect the mess in a dustpan. It will save damaging your vacuum.
A Selection of Small Brushes. Having a small plastic bag containing a range of smaller brushes is useful. Add several old toothbrushes, a floor-scrubbing brush, and an old washing-up brush. These are ideal for jobs such as stained grouting on walls and floor tiles. They can get into all sorts of nooks and crannies.
Window Squeegee. Buy a decent one. They last forever so it will be worth it. Not only can you wash your windows and squeegee them, but floor covering that is susceptible to water damage can be squeegeed too, leaving them almost bone dry.
General Purpose Cleaning Cloths. Microfibre cloths are an excellent choice. They come in an assortment of colours so you can colour code them job by job to avoid cross-contamination. They are washable and very soft so even highly polished surfaces won't get scratched.
Dusters. Good old-fashioned yellow dusters are great for gathering up dust on your TV stand, wooden surfaces and anywhere else dust collects.
Kitchen Roll. Sometimes you will need to dry a surface thoroughly before you clean it. Any spills can be tackled with a kitchen roll first. Be it a grease, water, or oil-based spillage.
Loo Brush. A clean decorative toilet brush and holder will look nice. It is also the easiest way to keep your toilets sparkling. A little cream cleaner and disinfectant will ensure your loos are in tip-top condition.
Steam Mop. This is not actually essential; however, a steam mop does a fantastic job. It can disinfect and clean at high temperatures and with minimal chemicals on carpets and hard floors.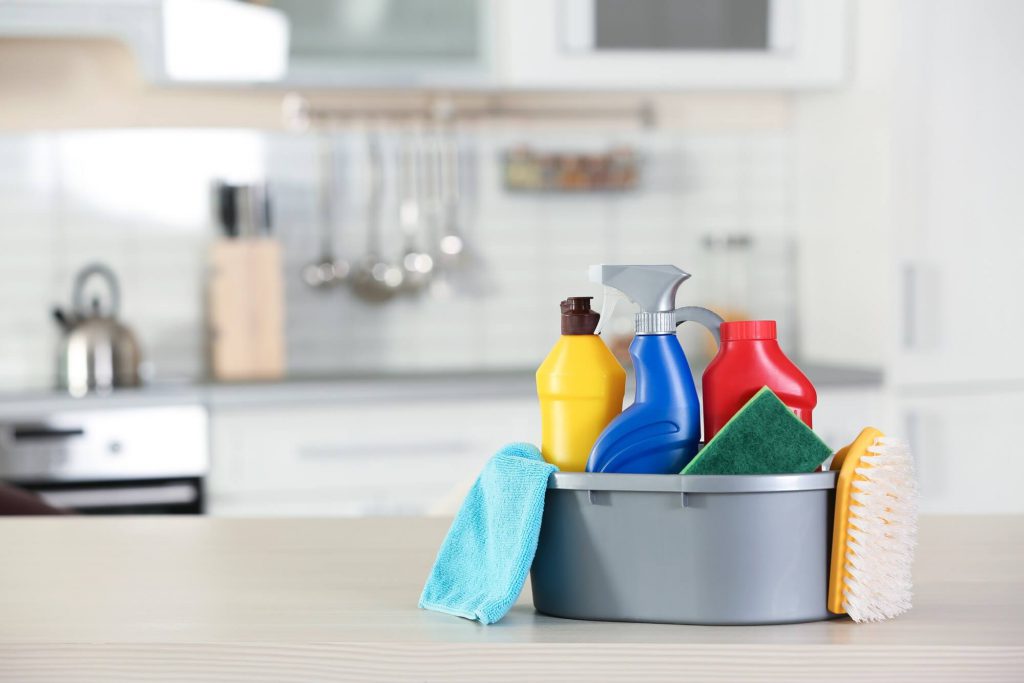 9 Essential Products to Add to Your Must Have Cleaning Kit
The next step is to gather all the cleaning products you will be using.
You could be faced with an assortment of situations such as stains, spills, dirt, grime, grease, and perhaps more.
Each will require a particular type of cleaning product.
Bearing in mind the cost of living crisis we find ourselves in currently, it is a good idea to work with products that have a multi-use.
Many products you buy can be used for several jobs. Plus, you can also buy "own brand" products, these also do the job just as well.
A Multi-Surface Cleaner. These can deal with a range of dirt including grease and smeary surfaces. Some of them have antibacterial properties, so you know that germs will be tacked too.
Washing up Liquid. There is absolutely no need to use expensive window cleaners. A little liquid in warm water, a clean cloth and some kitchen roll to finish are all you need.
Washing up liquid is great for other jobs too. Mix a squirt of fairy liquid and water together. You can use this to degrease kitchen cupboards, countertops, cooker hoods, and backsplashes.
White Vinegar. A natural cleaner and de-scaler vinegar has multiple uses. For ovens, windows, bathrooms, and floors vinegar is great.
If you've got pet stains or anything else looming on your carpet, vinegar will take out the smell and clean the dirt.
Anti-mould Spray. Many homes suffer from mould issues. Very often it is simply because there is not enough airflow. Bathrooms and bedrooms need to have windows open for a while to disperse the moisture in the air.
When mould starts to show, it is best dealt with swiftly. A mix of bleach and water helps. But a manufactured product is generally best.
For some helpful tips on how to rid your home of mould click HERE.
Cream Cleaner. This product has a slightly grainy texture and is perfect for stubborn stains. Using a little on a small toothbrush can also clean water marks from taps.
Carpet Cleaner. Carpets require special attention. You can opt to get the professionals in if the carpets are particularly bad.
If you want to run to the expense of buying an upright carpet cleaner there are plenty on the market. These work well. The initial outlay to buy one may be high but after a few uses, you will have your money back and for future cleaning, it will be free.
Carpet Freshener. Perhaps the carpets just need a bit of a freshen-up. Animals can cause bad odours, but of course, you must be careful not to use anything too harsh.
Vinegar and baking soda are non-toxic, pet-safe, effective, cheap, and eco-friendly. Together they will neutralize bacteria and remove the odour. Mix 1 cup of white vinegar and 2 cups of warm water, then add in 2 teaspoons of baking soda for an odour-neutralising spray.
If the carpets smell clean, the whole house does too
Bicarbonate of Soda. This is another very versatile product which comes with multiple uses. From the bathroom to the garden it is a winner. To find out more ways to use this wonder cleaner click HERE.
Fabric Spray. There are some nice fragrant fabric sprays on the market today and each supermarket has its own brand equal. Several are also anti-bacterial and ideal for sprucing up your fabric accessories and sofas. Two in one. Fresh smelling and germ-free.
Good to Go
Unfortunately, there is no magic wand at work here and sadly, the cleaning fairies are not going to appear. It is all very much a get-stuck-in and hands-on affair.
However, with all you need just an arm's length away, including your helpful list of jobs to do to keep you focussed, you will be well-prepared at this stage and ready to plough ahead.
In no time at all, your new home will be free of germs and stains, and you will be left with a fresh-smelling home to be truly proud of.