Are you in need of some tips for cleaning your new home?
Whilst moving to a new property is a very exciting thing to do, it takes a while to get it exactly how you want it.
When we put a home on the market, we make sure that before someone comes to view it, it all looks spic and span.
However, following the frenzied activity of move day, it is hard to clean really well before all your belongings are placed in their new locations within the new home.
For the vast majority of us, a good deep clean has to be done soon after the event.
The previous owners may have left the home in a clean condition, but everyone has different standards.
Give yourself a couple of days prior to unpacking absolutely everything, to go through the house and give it the once over room by room.
To help you to achieve your goal, we have compiled some top tips to ensure your lovely new home is thoroughly clean, the way you want it to be.
Here are our top tips for cleaning your new home.
Making a Start
Start by taking a walkthrough of the space.
Make sure you have an A4 writing pad with you so that you can record where you are and what you need to accomplish.
As soon as you have your list, start with the kitchen, which is the most frequently used room in the house.
Even brand-new properties require some TLC, even if it is just a thorough vacuuming and wiping down.
Start From the Ceiling Down
This is one of our top tips for cleaning your new home.
It may seem obvious, but dust settles from top to bottom.
By vacuuming light fittings, ceiling fans, high shelves, and the tops of door frames, you will catch most of the dust before it reaches the lower areas.
Don't forget light switches and doorknobs/handles as they carry masses of germs. Disinfectant wipes are ideal for this job.
After that, clean the windows, skirting boards, and finally the floors or carpets.
Prior to unpacking everything, you might want to do this in each room of the house.
This will give you more space to work in plus, you won't have to move furniture items around more than once.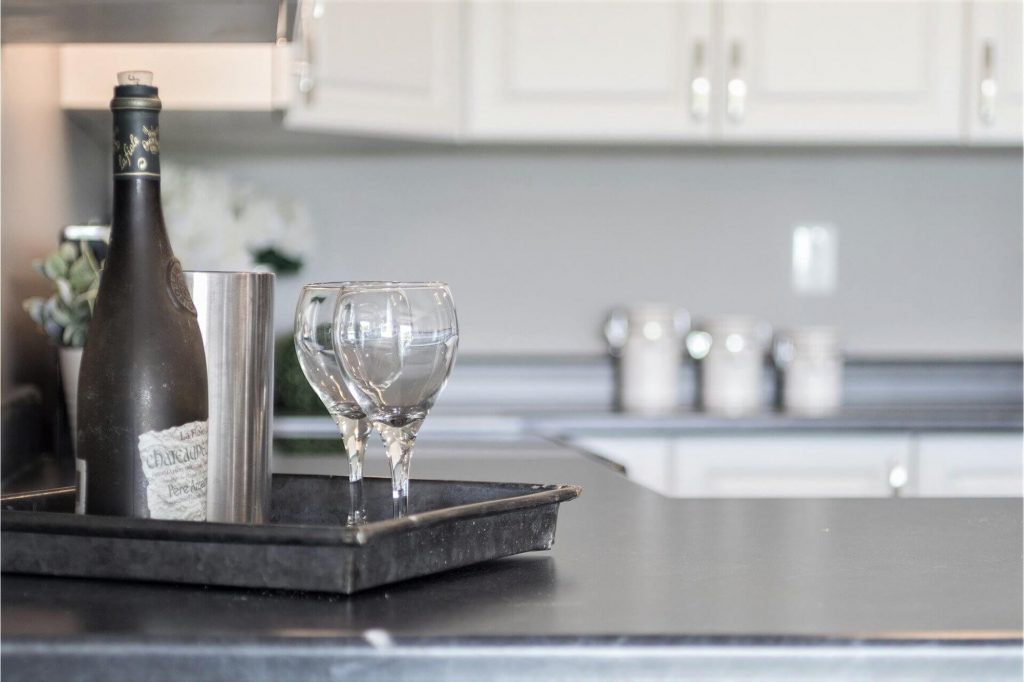 Kitchen Area
One of the first things you want to do is to get your perishables back in the fridge.
You may have bought a new one, or you may have a kitchen with an integrated fridge, either way, it will need cleaning. At the very least, give it a wipe down, before placing your food inside.
You can then tackle the rest of the kitchen.
Using the "top to bottom" method, you can work your way around the area.
Other appliances will need some attention, such as the dishwasher. This is easy to clean.
You can buy a good cleaner specifically for the dishwasher. It will remove limescale and grease deposits without you having to lift a finger. Its anti-bacterial properties will leave the machine smelling fresh too.
It is also a good idea to check the washing machine filter to make sure it is clean and free of any cloggy residue, the same goes for the soap power tray.
Using disinfectant wipes on all kitchen surfaces, wall tiles and cupboard fronts will kill any germs. Just wipe and leave it to dry before buffing the smears off.
Cleaning the oven its hood and the hob can be the worst job ever… There are plenty of professional companies who can do it for you.
Alternatively, Which? Has a handy oven cleaning guide, visit their website for further tips.
In no time at all, you will be able to cook your first meal in your sparking kitchen knowing it is squeaky clean.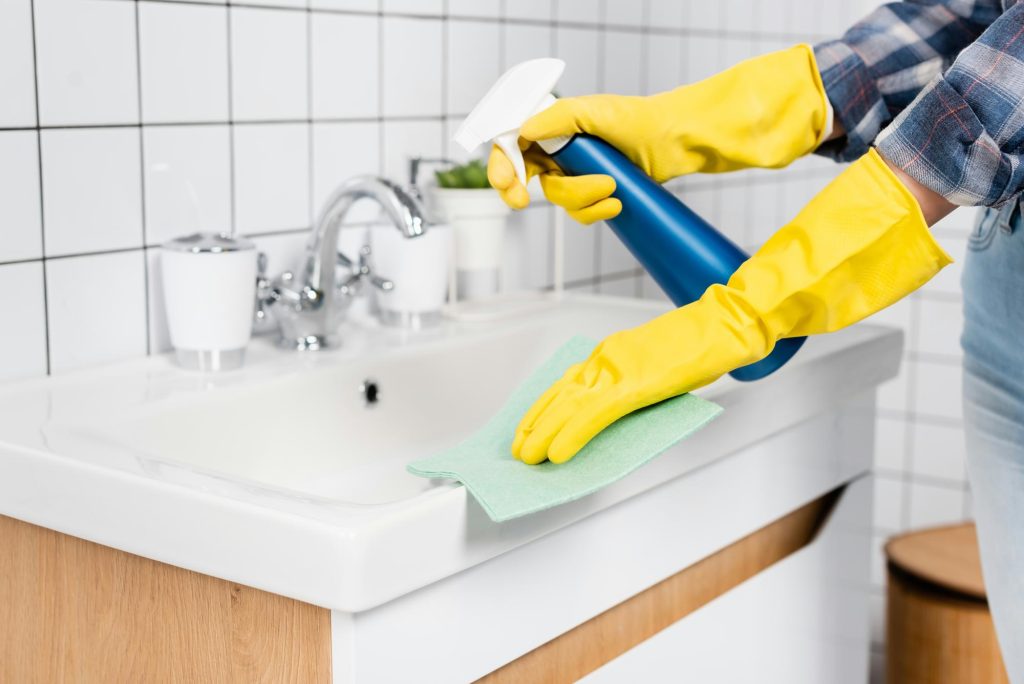 Bathrooms and Toilets
These too are areas in the house that take quite a beating and can get grubby quite quickly.
Disinfecting everything is the main priority in these rooms.
The cheapest way to do this is the good old-fashioned bucket of disinfectant water and a cloth.
As with all rooms start at the top.
Light fittings first, then walls, tiles, mirrors, and windows.
Next, you can tackle the bath, shower, sinks, and toilets. The floor will be the last job.
All the hardware needs to be de-scaled to remove any limescale deposits. Taps, showers, and plugs will all need some attention.
TIP: Here is a handy way to remove limescale from taps:
Soak a rag or a cloth in vinegar or lemon juice and wrap it around your tap, ensuring all areas are covered.
Secure the cloth with an elastic band and leave for an hour.
Occasionally squeeze the cloth to release more of the acid onto the tap.
Remove the cloth and wipe away the limescale.
If the limescale around the spout still won't come away completely, cut a lemon in half and screw it onto the spout until it stays in place.
Leave for another hour and then rinse and scrub away the remaining scale. Use a scouring pad on tough limescale but only on the underside of the spout as it may scratch the finish on the faucet itself.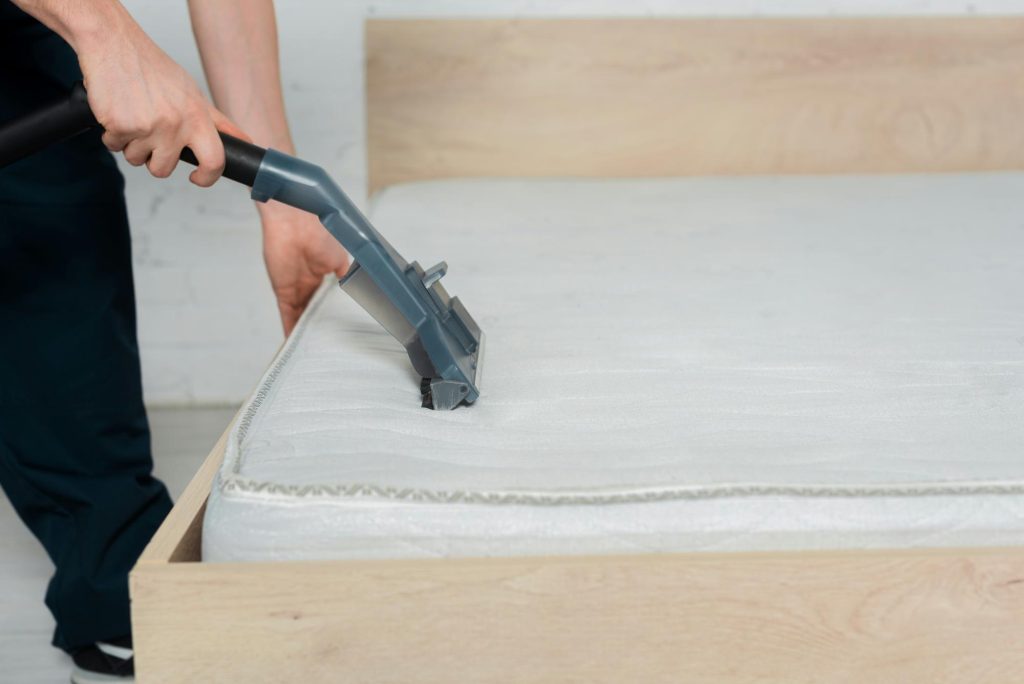 Bedrooms and Other Rooms
Bedrooms, lounge, dining room, and hallways can be tacked in the same way, not forgetting the golden rule, top to bottom.
Before all the heavy furniture such as your sofa and dining table are placed where you want them, hoover the room thoroughly.
Once they are in place, you can also give them a quick vacuum to remove any dust or dirt that may have settled on them during the move.
There may be fitted cupboards or wardrobes already in some of the rooms. A wipe and dust should be enough to clean these. Some may require hoovering; the nozzle can get right into the tiniest of corners.
You can now make up the beds with fresh linen ready for your first sleep in the new home.
TIP: Have some fabric freshener to hand so that you can spray fabrics such as cushions and drapes. The carpets can also be misted with it. It will leave a nice clean smell in each room.
Outside Areas
Having moved in and cleaned the house, you probably won't want or have the energy to tackle the outside of the property on the same day.
It is still important to get around to it as soon as you can.
Curb appeal matters, it is the first thing your family and friends will notice when they come and see the new home.
Areas to concentrate on include:
Gutters – check if they are clogged with leaves. Then clean
Outside lighting – spiders love to make their homes in and around these
Front door area – Again, think curb appeal. A dirty front door is not a good look
Weed the garden – Neat, tidy flower beds make all the difference to the look of the house.
Windows and frames – Use a PVC cleaner to get the window frames looking new again.
If you have wooden window frames, these may need attention. This job may take a little longer depending on their condition.
One of your handiest tools for the outside areas is a pressure washer. This piece of kit can pretty much clean everything, even brickwork.
By the time you have completed all your jobs, the outside will look as good as the inside.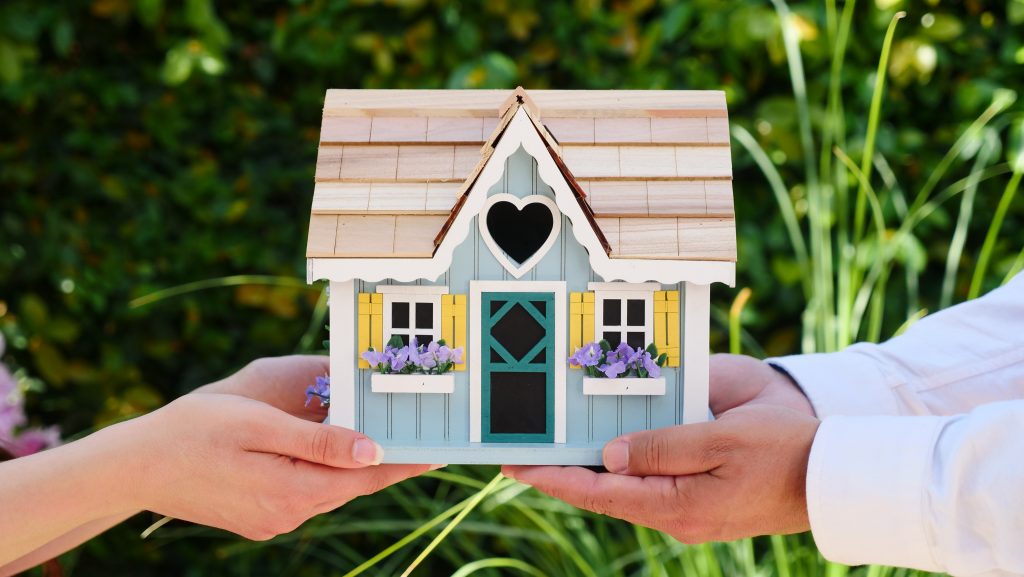 Enjoy Your New Home
We hope these Top Tips When Cleaning Your New Home will be helpful.
Now you are finally over the worst of the whole moving experience; The stresses, strains, and organisation in the run-up, the move day itself, and all that goes with it are now behind you.
All that remains is for you and your family to relax and settle in and enjoy your wonderful (and very clean) new home.