Where are the best cities to live in Canada?
Canada is regularly cited as one of the most popular countries to emigrate to.
As many as 405,000 people made the decision to move to this incredible part of the world in 2021.
The Canadian Government has predicted that this number will continue to grow with another 1.2 million new immigrants expected by the end of 2024.
There are plenty of reasons why people have flocked here for decades.
Jobs, world-class education, affordable and high-quality health care, a stable economy, low poverty, and safety are just some of the top reasons cited.
Canada is vast. The country stretches across 3.8 million square miles, which means the UK could fit into Canada over 40 times!
The difficult decision is where to live as there are so many outstanding places to choose from.
We may be able to help you decide which would suit your needs best. Here are ten of the country's cities and a little background on each.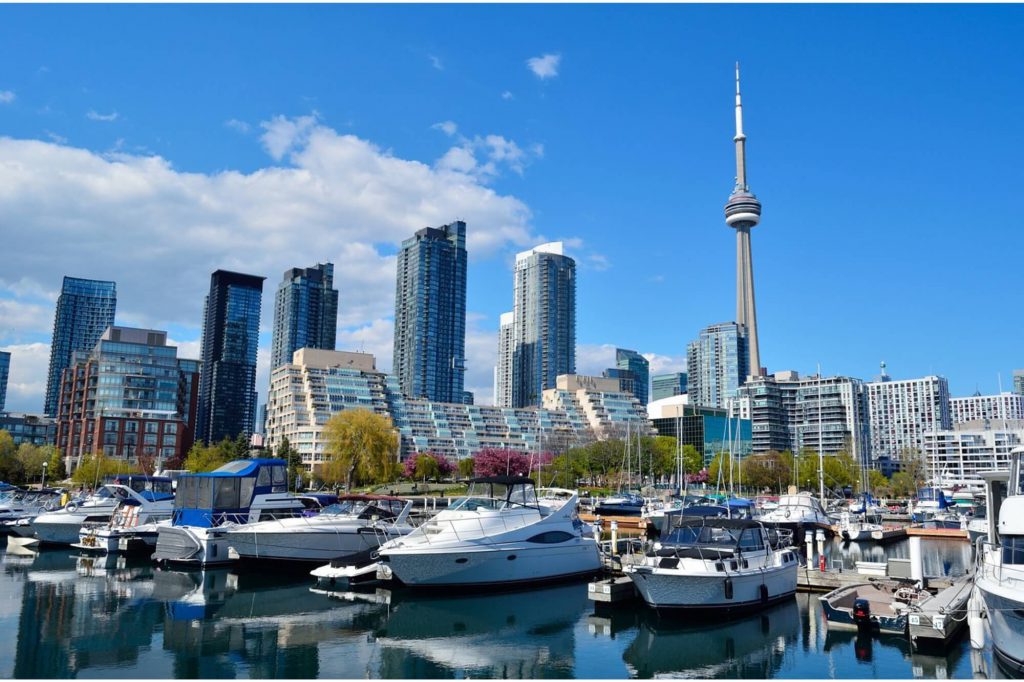 Toronto
Toronto is the largest of all of Canada's cities, home to a population of 2.7 million, and the unofficial capital of Canada.
Because of its size, Toronto is possibly the best city in Canada to find work long-term.
A thriving business economy is centred around banking, with five of the country's biggest banks having headquarters in the city.
Environmental innovation sectors such as energy efficiency, green building, and electric vehicles supply work to almost 35,000 employees.
It also features highly with large corporate giants such as Facebook and Google having offices in Toronto.
You may have to pay a premium price to live here, however, as it commands higher salaries, affordability is that much easier.
Getting around the city by public transport is incredibly efficient and better than most cities in the world, negating the need to own a car.
Attractions are plentiful. Top places to visit include the CN Tower, The Royal Ontario Museum, Niagara Falls, and Toronto Zoo.
With Toronto, you also have the choice of a waterside location as the city sits on the banks of one of the five Great Lakes of North America, Lake Ontario.
For recreational purposes, the lake provides campsites, swimming, boating and all manner of water sports. A go-to weekend attraction.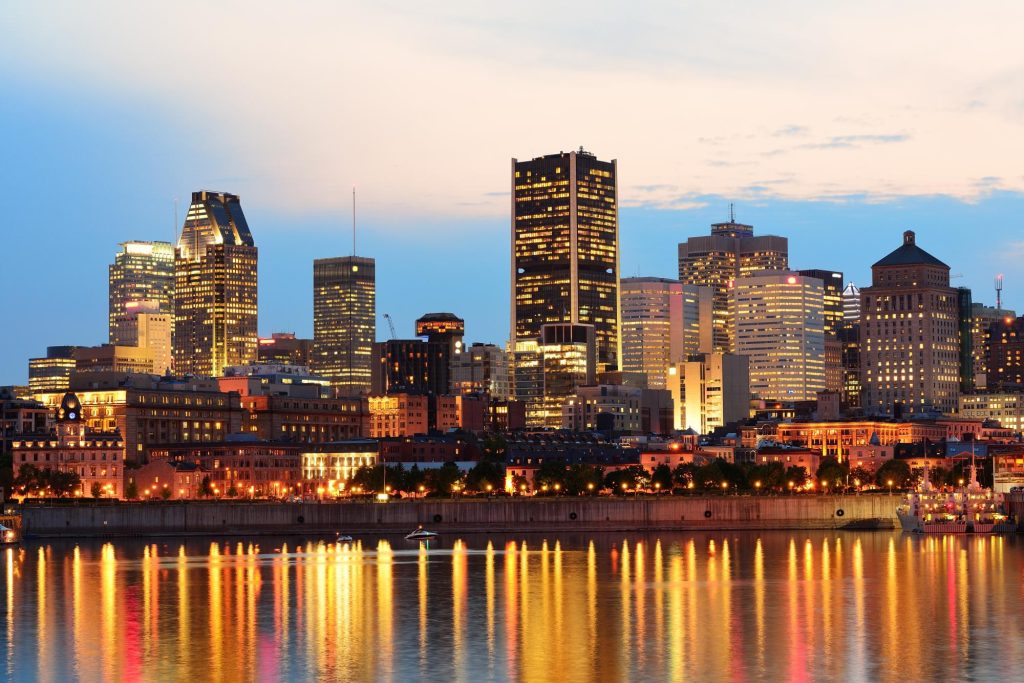 Montreal
Montreal is an island and is perhaps most known for hosting the Canadian Formula One Grand Prix.
Located in the Province of Quebec, the city covers most of the Island of Montreal at the confluence of the Saint Lawrence and Ottawa Rivers.
Diversity is one of Montreal's strengths. Each neighbourhood has its own identity, be it Latin American, Asian, or European.
Plus, unusually for Canada, a number of other regions are relatively easy to reach by road or rail.
Toronto is almost a direct car journey along the 401, a distance of approximately 600 miles.
Other places which can be reached without incorporating a flight are Niagara Falls 81 miles, Boston 308 miles and even New York City, a long journey but a direct one, at 373 miles
The great news is that housing in Montreal is much cheaper when compared to other major Canadian cities like Toronto and Vancouver.
Most of the population is bilingual, speaking both French and English. "Franglais" is a mix of French and English. It is how most people express themselves in Montreal.
Montreal comes alive at night.
Due to the mix of nationalities, Montreal is foodie heaven having the highest number of restaurants per capita in Canada, second after New York City!
Packed with music venues and great bars and terraces to enjoy drinks with friends. Eateries from around the world, offer casual dining and high-end fine dining experiences.
There are plenty of job opportunities in Montreal since unemployment is very low. If you are immigrating from another country, to aid your transition, you can get French courses for free!
In-demand professions currently include business analysts, architects, accountants, electrical engineers, doctors and nurses, software programmers, and carpenters.
Vancouver
Known as a friendly city, Vancouver is a great place to call home.
Situated in beautiful British Columbia, Vancouver is a sophisticated city. A place where culture is valued and where the quality of life is about as high as it gets.
The rugged mountains that frame the north shore, are a picturesque contrast to the splendour of the Pacific Ocean and beaches. Vancouver has the WOW factor in bucket loads.
Vancouver makes an excellent place for adventure and attracts active travellers from all over the globe.
The mountains surrounding the city have several ski resorts to visit in the winter. During the summer months when much of the snow is gone, there are mountain bike trails, hiking, and rock climbing.
All this does, however, come at a price. By Canadian standards, the cost of living is relatively high. House prices, utilities, and food are generally more expensive than in most Canadian cities.
Thanks to a progressive city council, Vancouver can be navigated easily on two wheels. It boasts a sophisticated bicycle network, so your 2-wheeled steed is always a good choice.
In addition, Mobi Bikes (council owned) are available all around the city for easy access and use if you don't own your bike.
Public transport is dominated by the Translink. 1120 miles of track help to deliver a huge number of services meeting the daily needs of Metro Vancouver residents and businesses.
Best places to visit nearby include Science World, the Bloedel Conservatory, Spanish Banks Beach, Vancouver Lookout and VanDusen Botanical Gardens.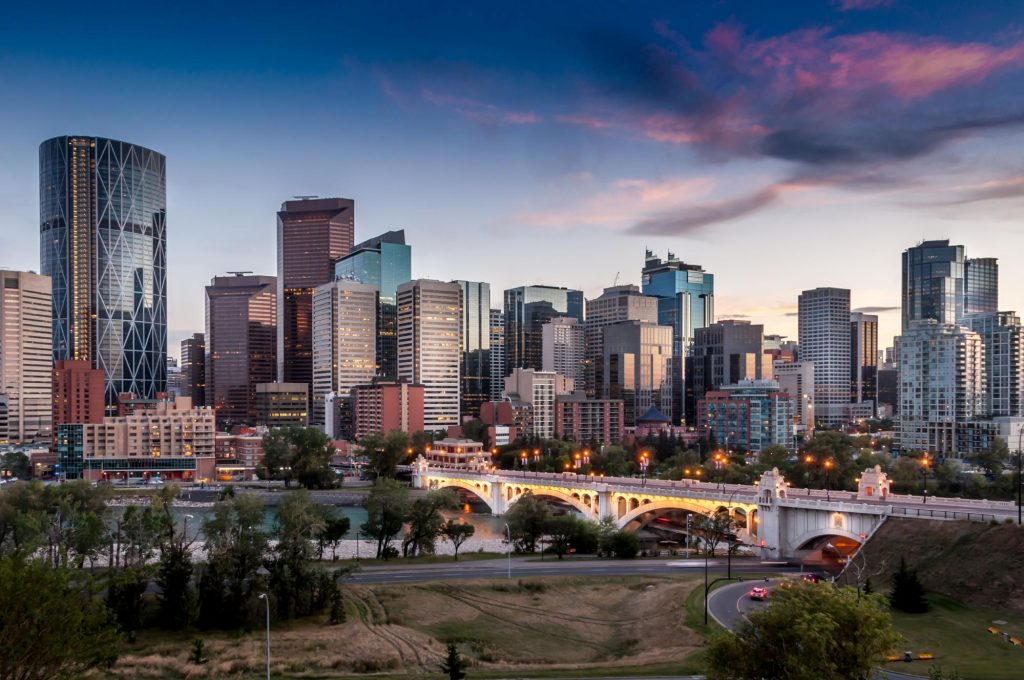 Calgary
Sitting within the Alberta province, Calgary is the region's largest city.
A combination of wild-west landscape, urban sprawl, and downtown commercialism.
In 2022, Calgary was ranked alongside Zürich as the third most liveable city in the world, ranking first in Canada and North America.
An enjoyable family-friendly, all-year-round outdoor lifestyle, Calgary has an awful lot going for it.
The city is most famously known for its unique Calgary Stampede.
Held over 10 days, the Calgary Stampede is an annual rodeo, exhibition, and festival all rolled into one. Over 1,000,000 people attend the annual July spectacle.
There is plenty of scope to land a good job in the city.
Much of the city's highly educated workforce has jobs in the oil and energy industry as well as construction, engineering, and agriculture.
The weather is much more temperate in this region. Winters are shorter than most Canadian locations and in summer temperatures can reach 30 degrees centigrade.
Active people can take full advantage of the world-class ski resorts nearby such as the Nakiska Ski Area (54 miles) and the Mount Norquay Ski Resort (82 miles).
Hiking and cycling are also big activities and are incredibly enjoyable experiences as the natural beauty of the surrounding scenery is stunning beyond words.
Work hard play hard is the mantra of those who live in Calgary.
Victoria
Victoria is the capital city of the Canadian province of British Columbia.
Named after Queen Victoria, the city is one of the oldest in the Pacific Northwest, with British settlement beginning in 1843.
It is still a popular location for Brits emigrating to Canada today.
It is well placed, on the southern tip of Vancouver Island off Canada's gorgeous Pacific coast.
As with pretty much all of Canada's cities, Victoria is set within a picture-perfect location.
There are sweeping ocean views from many parts of the city, and the downtown core is set on a picturesque marina.
Surprisingly, this area enjoys one of the warmest climates in Canada.
Also known as the Garden City, since the mid-1990s it has been mild enough in a few areas to grow Mediterranean crops such as olives and lemons.
Victoria is popular among tourists and retirees, as well as students attending the many colleges within the city.
There is a strong British presence, and for those seeking work here, it is that much easier since the national tongue is English.
As much as 84% of the population are fluent English speakers.
The rich artistic heritage of the area, which features the Royal British Columbia Museum, Craigdarroch Castle, and the Butchart Gardens, is a huge draw for all ages.
Another draw is that Victoria packs in a lot of very beautiful landscapes, including forests, lakes, the ocean, and mountains.
With a high number of excellent job opportunities, Victoria is a very desirable location indeed.
Edmonton
Edmonton is situated on the North Saskatchewan River. It is America's northernmost large city and metropolitan area.
A resident of Edmonton is known as an Edmontonian. The city was named after Edmonton, Middlesex.
There are so many reasons why Edmonton makes a great place to visit or to live.
One of the popular reasons is West Edmonton Hall, North America's Biggest Mall, an alternative to the great outdoors.
West Ed (as it is commonly referred to), is an impressive feat, holding over 800 stores, 100 dining venues, 2 hotels, a water park, an ice rink, and an indoor amusement park.
The friendliness of Edmontonians means that you will find it quick and easy to connect with people whether it be in a social setting or at work.
Another very positive attribute of living in Edmonton is its schools. State or private, they are second to none. Hence its popularity with families.
Though it may be cold and typically known as a winter city, Edmonton also holds the title of 'the sunniest city in Canada' thanks to its average of 325 sunny days per year!
Edmonton makes the most of its sunny weather by hosting a year-round plethora of festivals, which is reflected in the nickname "Canada's Festival City".
Popular festivals include The Works Art & Design Festival, Edmonton International Street Performer's Festival, and the TD Edmonton International Jazz Festival.
However, while there is an incredible number of fantastic attractions, it is not all play.
Hard-working Edmonton is the major economic centre for northern and central Alberta.
Blessed with massive oil, gas, and oil sand reserves, it is a major centre for the oil and gas industry.
As long as you are aware that the weather though mostly sunny is also very cold at times. If you like the idea of a green, friendly, active city, Edmonton could be the perfect fit for you.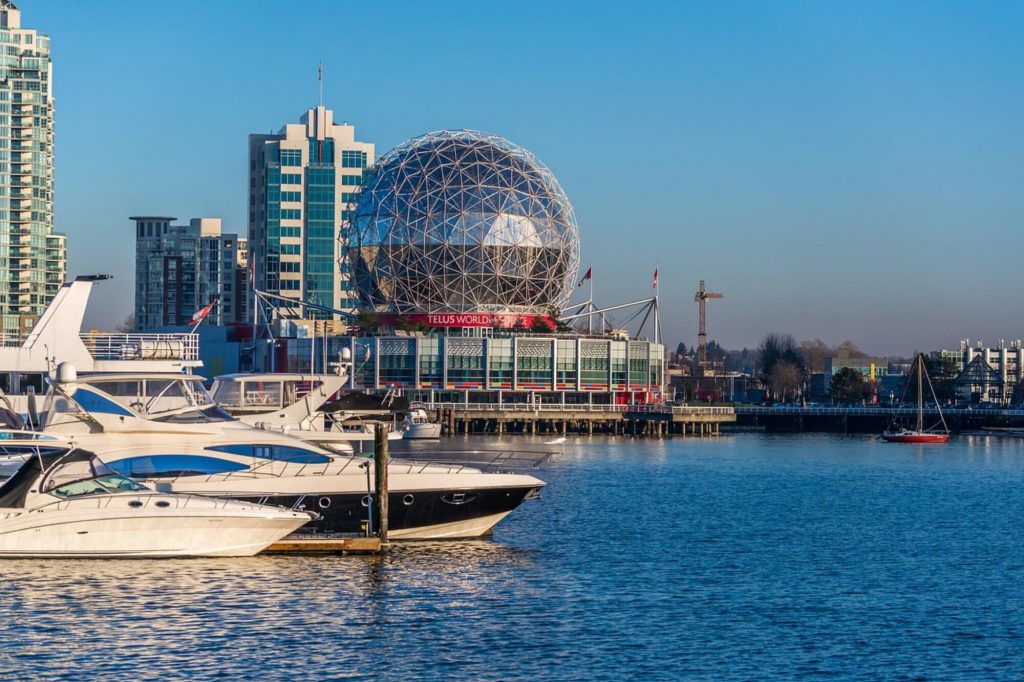 Ottawa
The capital city of Canada, Ottawa, is within the province of Ontario. It sits right on the border with Québec.
An important city, Ottawa is the political centre of Canada and the headquarters of the federal government.
The city houses many foreign embassies, key buildings, organizations, and institutions of Canada's government. They include the Parliament of Canada, the Supreme Court, the residence of Canada's viceroy, and the Office of the Prime Minister.
Ottawa is not only about passing legislation, but it also has many other features to boast about.
Ottawa is unusual in that it is one of just a few cities in Canada that is officially bilingual.
English, Irish, and Scottish immigrants combined account for as much as 66% of the total population of this city.
Getting around is easy and fast. The OC Transpo (public transport system) runs almost 24/7 all over the city.
When you want to get out and explore the wider region, start with the Gatineau Hills. A prime tourist attraction, it welcomes thousands each year to its impressive ski slopes.
The neighbouring communities of Ontario and Quebec also flock here to enjoy the area's infamous downhill ski runs.
Although snow and ice are dominant during the winter season, the summer is in contrast hot. June, July, and August regularly have temperatures exceeding 30 °C (86 °F).
Incredibly, Ottawa has two beaches. Located on the northeast corner of the island, they are a chance to escape the city and enjoy swimming, canoeing or paddleboarding.
Culture is abundant with the city being home to no less than six of Canada's nine national museums.
The city has also been voted, many times as being Canada's safest city.
In fact, it is considered one of the safest cities in North America.
The best part about Ottawa is the city isn't that big; most of the fun things to do can be found within downtown Ottawa and the inner-city neighbourhoods.
Halifax
It may be one of Canada's lesser in-demand cities, but it still offers plenty for anyone thinking or living and working in Canada.
Though it is the largest city on the East coast of Canada, it has an appealing, small-town feel about it.
Port Halifax is a major Canadian port for fishing, but Halifax is also well known for its agriculture, mining, forestry, and natural gas extraction sectors.
IT, financial services, and maritime work are also examples of some of the biggest industries in Halifax.
One of the big attractions of living in Halifax is the cost.
Compared to the likes of Vancouver, property costs are much more reasonably priced, you can expect to pay as much as 30% less in Halifax for a home.
Nova Scotia is home to more than 4600 miles of stunning coastline. As Halifax sits right on the Atlantic Ocean, you are never more than half an hour from the beach.
One of the best beaches in the area is McNabs Cove. An ideal spot to sit and watch the boats come in and out of Halifax Harbour.
There is a huge college community here. Six highly regarded universities and three community colleges supply a full range of high-quality post-secondary options.
Over 40,000 students from around the world choose to study in Halifax.
Catering for the entertainment needs of so many young people is easy, as there are more pubs and clubs per capita here than in any other city in Canada.
One of the best ways to get to know the city a little more is to join a free walking tour.
Learn about the history and culture of Halifax while seeing a few of the best sites the city has to offer.
As seems to be the norm across Canada, there is also no shortage of beautiful places to visit when the city becomes tiresome.
There are several lakes which are outside Halifax, ideal for those who enjoy nature. Plus, on either side of the city are two Provincial Wilderness Areas.
Similar to the UK's National parks, they provide vast open green spaces for residents to enjoy.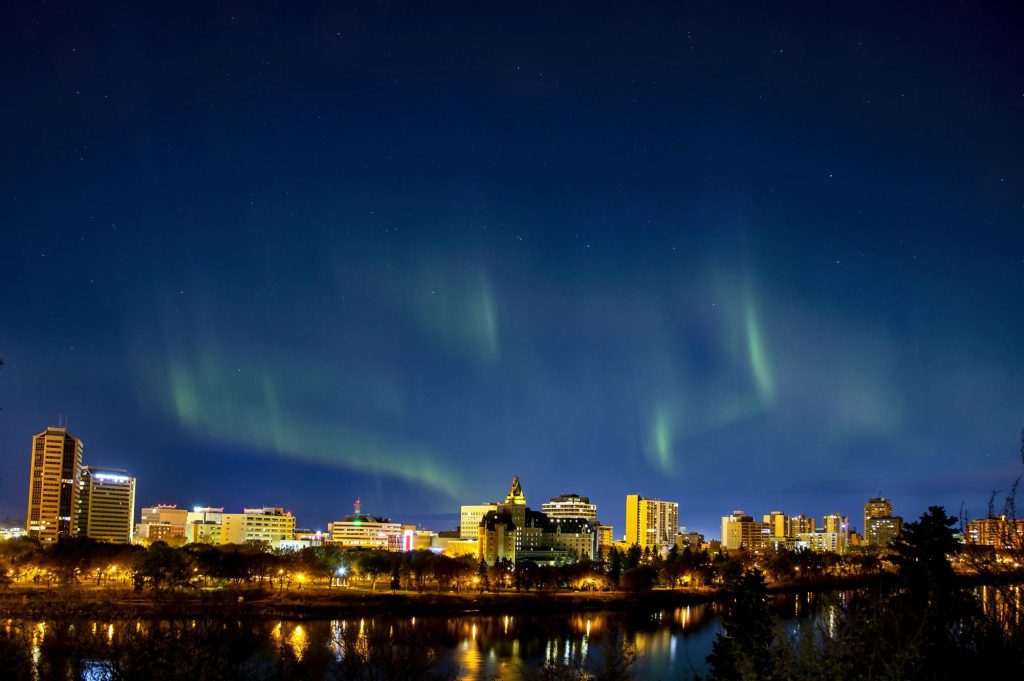 Saskatoon
Saskatoon, (Known as the City of Bridges) is in the province of Saskatchewan.
One of only two regions in Canada that are totally landlocked. Though there is no coastline, the South Saskatchewan River runs right through the centre of the Saskatoon region.
Founded in 1883, it also has had the same lineage of inhabitants for thousands of years and its ancient culture is well preserved.
Incredibly diverse and astonishingly beautiful Saskatoon sits in the heart of the Canadian Prairies.
Residents live in the southern prairie half of the province.
The northern half is sparsely populated and is primarily woodland.
Saskatchewan people think nothing of driving long distances, at any time of the year, so, owning a car is essential.
For work purposes, the city is the main economic hub for the province, due to its particularly convenient transport connections.
Agriculture, livestock and grains, oil and gas, uranium, gold, diamond, coal, and potash are the major backbone of the Saskatoon economy.
The great thing about emigrating to this city is that unlike some cities across the country, the immigration process is designed to make immigration easy. Particularly, for people with experience and skills that are in high demand.
No shortage of things to do here either.
Meewasin Valley Trail, Wanuskewin Heritage Park, Batoche National Heritage Site and Fort Carlton Provincial Park are great places to visit any time of the year.
While a lively arts and entertainment community, along with scores of festivals and events, performing arts, museums and galleries provide all the cultural attractions you could ever need.
Saskatoon may be relatively remote by some standards, nonetheless, it has everything you need to ensure you can enjoy a fulfilling, high-quality lifestyle.
Quebec City
Founded in the early 17th century, Quebec City is the capital of the province of Quebec.
If history is your fascination, this is the city for you.
Old Town Quebec has pretty cobbled streets surrounding the striking Château Frontenac and the only preserved city ramparts in North America. It is now a UNESCO World Heritage Site.
Incredibly, there are as many as 37 National Historic Sites of Canada found in and around Quebec City.
There is an abundance of other things to do and see in Quebec, that make it a year-round travel destination.
Montmorency Falls, Aquarium de Quebec, Hôtel Valcartier Water Park and outside the city, the beautiful Réserve faunique des Laurentides are all popular places for tourists.
Quebec is another of Canada's popular student cities. Universities of note include the Bishops University, the Université Laval and the Université du Québec.
However, the city doesn't only attract young students.
Touting a blend of history, modern amenities, culture and spectacular scenery, Quebec City is a popular pick for people of all ages.
Affordable living costs here are a huge attraction, much cheaper than the likes of Toronto, Vancouver, and Calgary for instance.
What is more, business is booming in Quebec. During the past two decades, around 66,000 jobs have emerged across the city helping to boost Canada's national economy.
The only barrier for Brits moving to Quebec is the language. Unlike many of Canada's cities, you will find that your job prospects are much greater if you can speak French.
For English speakers, it is not an impossibility to find work, as around 45% of locals are bilingual, speaking both French and English. But it can narrow your employment chances.